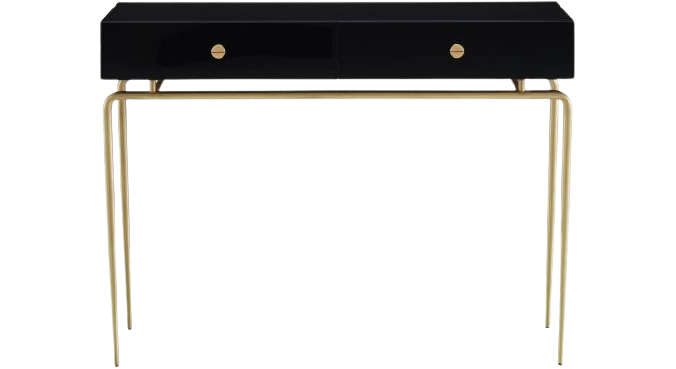 Ligne Roset
DÉBOURGEOISÉE
Funny little pieces, attractive and timeless, which will bring a quirky touch to a Haussmannian apartment, a contemporary home or a relaxed second home : this was what Michel Roset was counting on when he decided to put the Débourgeoisée bedside table and console into production.
Base and handle(s) in matt brushed brass-coated steel. Chest of drawers in gloss black lacquered MDF. Drawer(s) on invisible runners, equipped with controlled closing.
Meet the designer
Desjeux Delaye
DESJEUX DELAYE is an interior architecture and design agency founded by Dorothée Delaye and Daphné Desjeux. This duo dreams up almost masculine decorative schemes with sharp, clean lines. They love to mix genres and eras so that spaces do not become 'fixed'.
The heritage of each place inspires them to fashion a unique atmosphere without limiting themselves: infinite detail, a monumental object, measure and excess.
Their former lives in the media taught them to think of spaces as stages on which stories can be related.
Designers, craftsmen, graphic designers and architects come together and work with the same expectation: never sacrifice their ideas for the sake of trends.
Desjeux Delaye never loses sight of its ambition to imbue all its forms with a spirit of chic informality.
Their agency specializes in the hotel industry and has been working on a range of projects since 2018: a hotel in Formentera and two hotels in Paris, two high-end apartments also in Paris and multiple product projects such as an eponymous collection of lighting, sold in Bon Marché and produced by MR Agency, and a range of furniture for Versant.