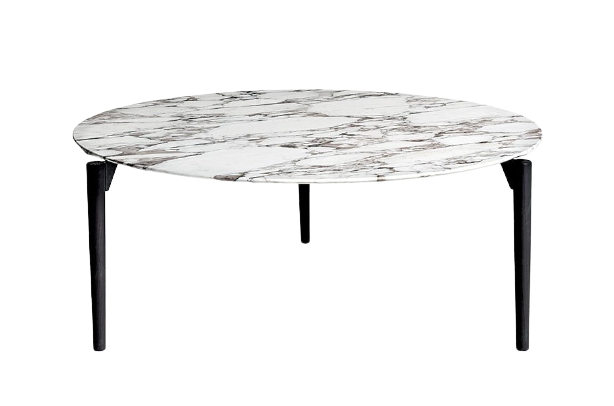 De Padova
Tavolo '95
This piece by Achille Castiglioni is a great design classic. The construction details of Tavolo '95 are hidden from view and its materials are luxurious and refined. The marble or wood top appears suspended above the sturdy, well-designed base due to slender support brackets that create this particular visual effect. Solid yet light, it comes in different versions, including one with a Lazy Susan at its center that is flush to the surface.
Materials:
BASE: legs in aniline-dyed solid ash wood, charcoal coloured, finished with transparent water-based or solvent-based coating.
Steel frame and brackets made of gravity cast aluminium, matt black powder-coated. Adjustable thermoplastic feet.

WOODEN TOP: wood particle board panel (class E1, CARB P2 / TSCA Title VI certified), veneered in smoked oak with solid smoked
oak edge, finished with transparent water-based or solvent-based coating.

TOP AND LAZY SUSAN ROTATING TRAY IN MARBLE:
Calacatta Oro marble or Valentine Grey or Grey Stone or Gris du Marais | Lithoverde® or Pietra d'Avola | Lithoverde®, edge finished by helical moulding, treated with water repellent products. Lower reinforcement made of fibreglass mesh, embedded in epoxy resins.
The top is equipped with a reinforced structure (except for 140x140 cm and Ø 140 cm tops).

ROTATING MECHANISM: Rotating mechanism and mechanism support in aluminium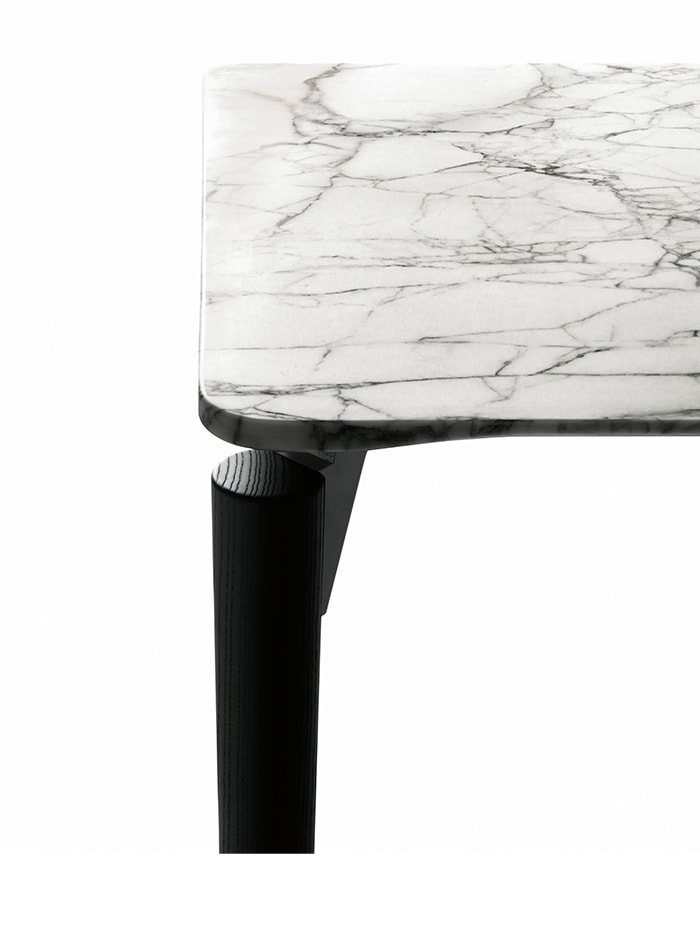 Meet the designer
Achille Castiglioni
Achille Castiglioni (Milan/ Italy, 1918 – 2002) Architect and designer, graduated from Politecnico in 1944. A life dedicated to design, research and innovation. Many products are testimony of Achille Castiglioni's lifelong career designed for important furniture and lighting companies. He also curated exhibitions, fairs, shops and exhibitions. His architectural projects have been awarded with several awards, among which 9 Compasso d'Oro conceived from ADI (Association for Industrial Design) that Castiglioni helped founding in 1956. His unique career path starts in 1940 with his brothers Livio (1911-1979) and Pier Giacomo (1913-1968). Their interests were directed towards Urban Planning, Architecture and Design; they performed analysis and research on new forms, techniques and materials, aimed at developing a process of "integral design". His products and projects are aimes to communicate the basic principles of design with a minimal language and components and to educate towards an intelligent and ironic use of things. Architect and Designer. Graduated from Politecnico in 1944.