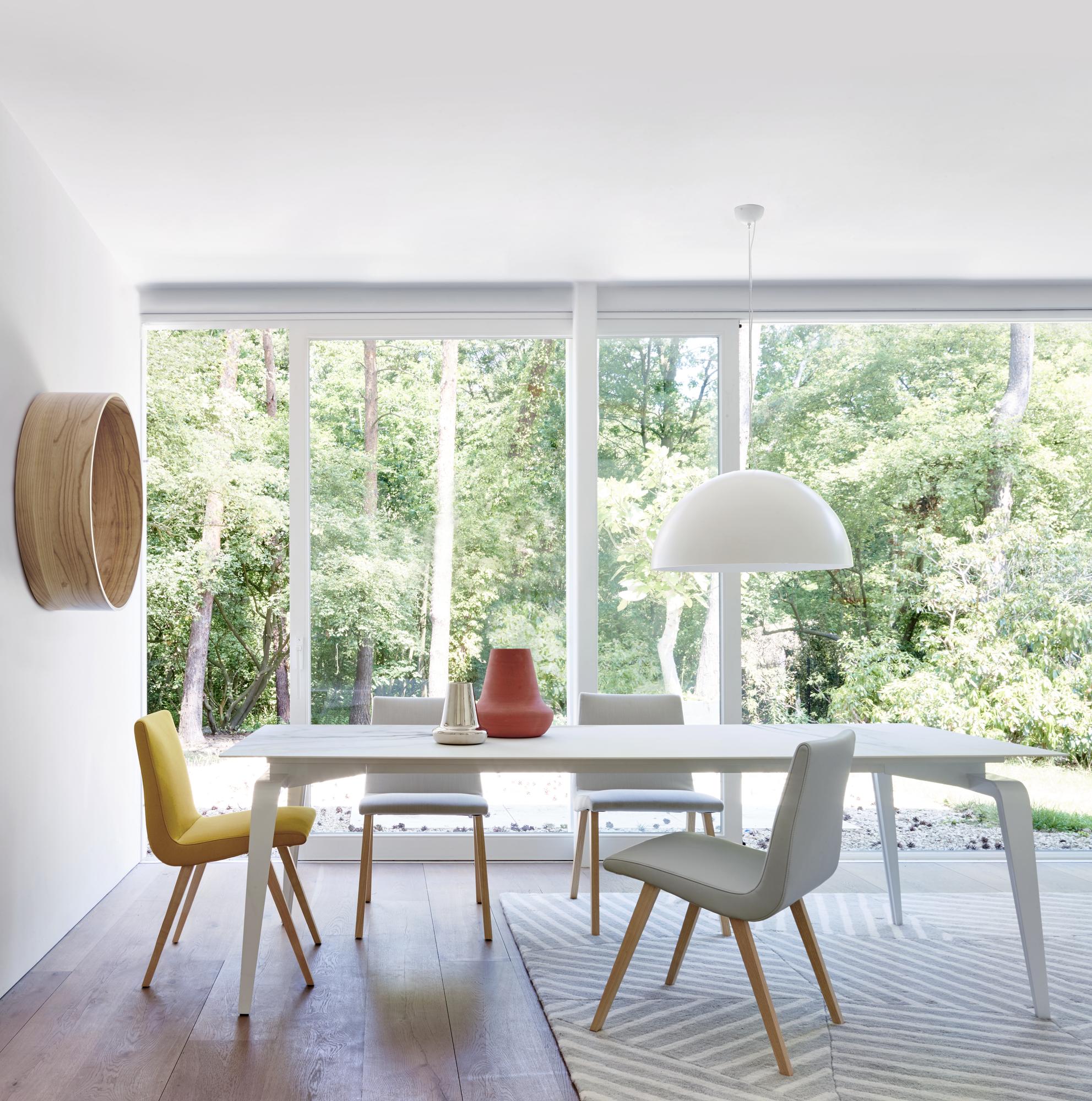 Ligne Roset
Odessa
A vision of natural minimalism with clean-cut shapes and dynamic lines, Odessa is a slender dining table with reassuring characteristics. Angled like an airplane wing, Odessa's table top, appears to float on top of the double arch of the folded steel feet. The Odessa table is offered in a number of lengths and finishes.
WOODEN TOPS : in matt varnished solid European walnut blockboard or natural solid oak, thickness 40 mm, with streamlined edges.
CERAMIC STONEWARE TOPS: round table Ø 130 and oval tables 198 and 240 - 6 mm thick full body ceramic stoneware (white marble-effect or Emperador) glued onto an 10 mm thick sheet of glass (total thickness 16 mm); for round table Ø 148 - 6 mm thick full body white marble-effect ceramic stoneware glued onto an 10 mm thick sheet of glass (total thickness 16 mm).
CERAMIC STONEWARE TOPS (for rectangular tables) : in 6 mm thick full body ceramic stoneware (metallic anthracite, white marble-effect, white or Emperador) glued onto a 12 mm thick black or white MDF set back slightly from the edge of the top & screwed to a 12 cm steel support set back 7 cm from the edge of the top.
MARBLE TOPS (round table Ø 130 cm only) : 20 mm thick Carrara marble.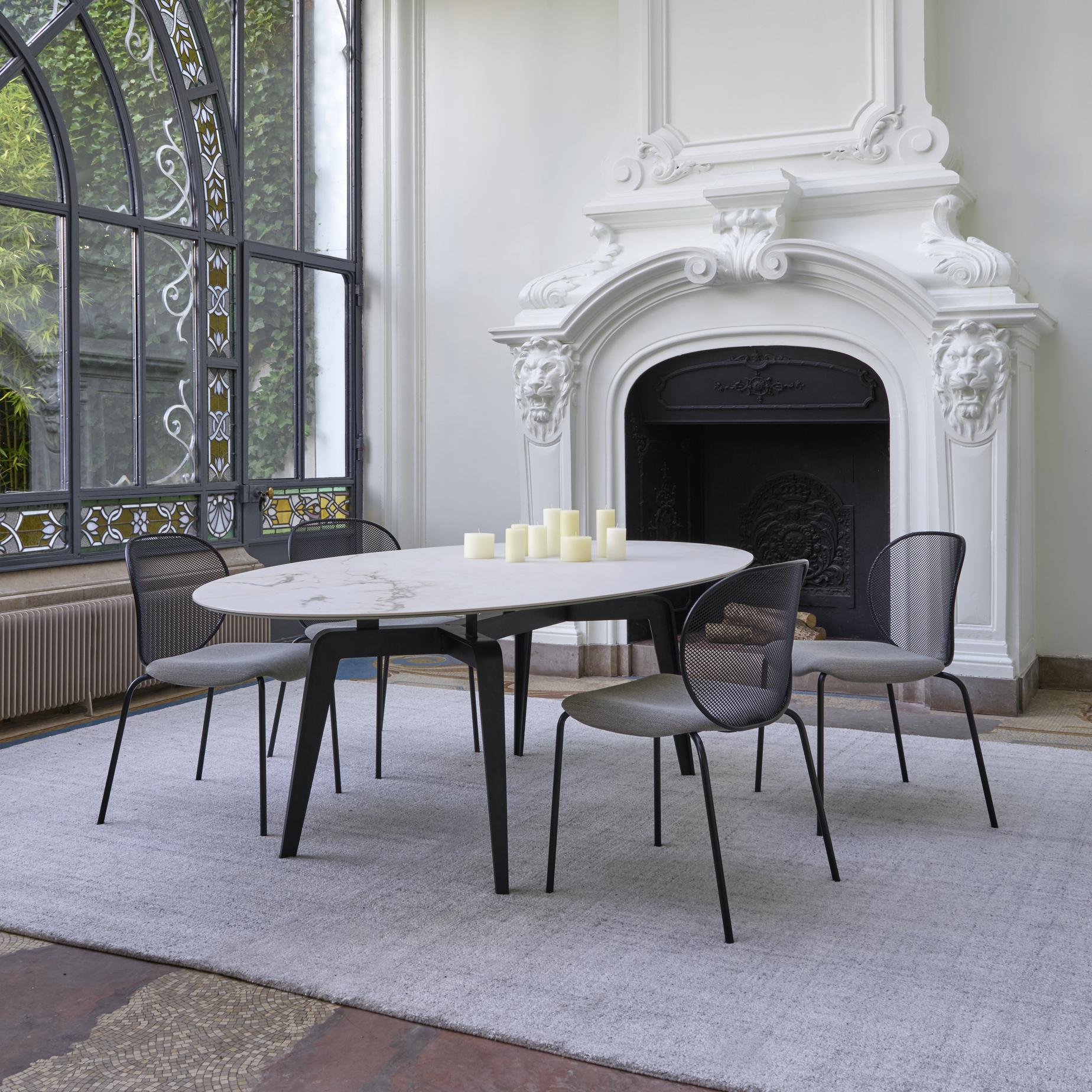 Meet the designer
Mauro Lipparini
Mauro Lipparini's intensive activities in the field of industrial design encompass furniture for both home and office, textiles and other products created for numerous companies in Europe and Japan. In terms of architecture and interior design, he focuses mainly on residential and commercial buildings such as corporate headquarters, showrooms, shops, restaurants and exhibition spaces. In addition, he designs and produces advanced image and corporate identity systems ranging from graphics to editorial services and production.
The style of Lipparini, based on pared-down forms and clear, vigorous lines, the characteristics of natural minimalism, is heavily influenced by gaiety of spirit, and an intoxicating sense of aesthetic pleasure and creativity. Through the free use of colours, organic frameworks and original visual ideas, Lipparini broadens the palette of minimalism by converging instantaneousness and the power of this aesthetic quality in new era of maturity and a sense of wellbeing.
For Mauro Lipparini, design is the inevitable tension between aesthetics and function, art and application. He enables a product to become both agreeable and intriguing, a functional or superfluous object to be transformed into one charged with aesthetic sense and semantics, thus enriching the domestic landscape. He enables a space or its ergonomy to come alive with an ever-new relevance. Design engenders desires which will improve the quality of life, it enables us to view progress with increased involvement, it renders the understanding of function and therefore the perception of one's habitat both passionate and agreeable.
Design is not the application of form like make-up, it is the object in itself, it is the tradition, the culture which enables people to have more or less indirect contact with the intellectually avant-garde by democratising art. It can be more or less poetic, constructive and considered, but it must always push the very limits of risk by forgetting habits and customs.
These considerations form the base of my work and, through simple, vigorous lines, graphic abstractions, compositions and purely geometric decompositions, I am ever on the trail of beauty and pleasure with a view to allying form and function. A natural minimalism of pared-down forms, paying particular attention to materials, colours, surfaces, to thick and thin, light and shade.